It is still Ramadan but Syawal is coming real soon. This is our 5th Syawal and we have seen many many Raya Open Houses in RUANG. But here are lists of things to consider if you would like to have your raya open house at home.
Clean Sweep Your Home
First impression is key. Clean sweep your home. You don't want your guests to be sitting on top of your clutter. Not only you get to clean living spaces, you need to ensure your toilets are clean, there are proper space for guests to perform solat and other basic necessities ie. prayer mat etc is readily available.
2.   Beautify Your Garden 
So now that your house is sparkling clean, you have to look into your garden too. Ensure that your cut your grass and trim your plants.  No one wants to step in to a jungle wearing high fashion raya outfit from Fashion Valet!
3.  Rearrange Your Furniture & Hiring Tents
Calculate. After rearranging your furniture, how many can you accommodate at one time. If its not enough, do you think hiring canopies is an option? How many neighbours are affected if you erect a tent outside your home?  How many roads are affected? Is the weather ok for erecting canopies?
4.  Cook or Cater? 
This one is interesting. Trust us, like it or not, either way, you still have to clean your kitchen. Guests will still have to go in to wash their hands, replenish hot water for baby's milk etc. So there is no shortcut to this. Our advice would be, don't kill your self by cooking for your guests. You want to be able to entertain them and not busy running back and forth replenishing food. Do hire a caterer but remember, cleaning your kitchen is still necessary before and after event.
5.  Parking Spaces
How many parking spaces are available nearby your home? Do you think your guests will trouble your neighbours? Identify where you can redirect them to park so that they won't trouble your neighbours.
6. Take a Day Off 
Why? Cause you need an extra day to firstly, get some rest and secondly, clean up your greasy kitchen, rearrange furniture back to its original position, mop and clean sweep your home all over again. Looks like spongebob is having a ball eh? haha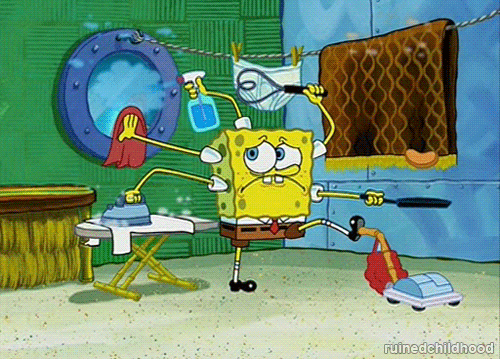 Most importantly, do not stress yourself up and ensure you have a enjoyable Hari Raya Open House.  Delegate and hire reliable vendors and your event will be a success!
But if you think you want a hassle free Raya Open House, you can WhatsApp us at http://wasap.my/+60166344110
Selamat Hari Raya from us all at RUANG Event Space!
xoxo
RUANG